Entries for all our events are filling up, so get in quick! We have posted the start lists online, so you can see if your best mates or biggest rivals have signed up yet. Have a look and make sure you are entered in one of the summer's most iconic events!
Want to make your race day that little bit easier? Book your transport with us.
UDC Finance Mountain Bike transport from Queenstown and Arrowtown to the Start Line is at 75% and 80% capacity respectively.
Marathon transport from Queenstown and Arrowtown to the Start Line are both at 73% capacity.
You can book online when you sign up or add to your booking. 
---
The Motatapu team are thrilled to announce our latest sponsor, Lane Neave to the Motatapu family.
Lane Neave is recognised as one of New Zealand's leading full-service law firms, with offices in Auckland, Wellington, Christchurch and Queenstown. With 24 Partners and approx. 150 staff, the diverse nature of its lawyers means that it has the depth of knowledge and experience required for any job.
Lane Neave has clients both locally and internationally, and its unique position in the legal market allows it to provide the legal capability and depth of resources of a large law firm, while enjoying the ability of a boutique-sized firm to develop close and long-lasting client relationships.
"We are super excited to welcome Lane Neave onboard. We cannot wait to host them at the 2023 Motatapu, where I am sure they will have a fantastic experience, enjoying all the fun and atmosphere our event generates," said Gemma Peskett, Race Director and co-owner. 
---
Motatapu is now a UTMB Index Race!
We are delighted to announce our 52.5km Ultra run is now a UTMB Index Race for 2023!
What is the UTMB Index? This is a system of assessing the performance level of each trail runner. The UTMB index system provides all finishers of a valid UTMB Index race, an index number in the distance corresponding race category of the race. For all races in the UTMB World Series, runners with a valid UTMB Index will have a priority entry. For more information click here.
---
Hydration planning for your event by PURE Sports Nutrition
The art of remaining hydrated during an event is no easy feat. Timing, type, taste and volume are just a few of the factors that can make or break your race day. Knowing your fluid facts is a big part of performance so we have put together some practical tips to get you going in the right direction. 
Experiment, experiment, experiment. If your event has aid stations it makes sense to trial the on-course product, and do this early in the lead-up. Get to know the product, ingredients, how it sits for you and if it performs on your long training sessions. If it's not a 100% fit then shop around and try other brands until you find the one that works for you. Ensure your chosen fluid contains electrolytes, easily absorbed carbohydrates and above all tastes sensational to you. 
Plan out your event hydration. Take note of the time of year, likely temperature, length of race and support stations along the way. This helps paint a picture of what your fluid requirements will be. It's important to lock in your race day nutrition plan so you can train towards achieving it. 
Work with the environment. If you are training for a summer event then your fluid and electrolyte requirements will likely be higher than they currently are now if you live in a seasonal climate. Vice versa, a winter event will have different challenges around drinking and strategies for encouraging fluid intake. For example for summer events, iced hydration can be a lifesaver for keeping cool, however not so much in winter (mulled sports drink anyone?). If your fluid needs will be higher, start training the body to train on higher loads of fluid by adding them into your long sessions at frequent intervals. Start with small mouthfuls and increase over time. Many factors impact hydration needs but generally, they sit around 700-1000ml per hour.
Replace minerals lost in sweat. Sodium, magnesium, potassium and calcium are all electrolytes your body loses when it sweats. The replacement of these is vital to muscle function and resulting performance in your event. 
Choose the correct hydration. For events over 60 minutes: PURE Electrolyte Hydration. For events over 120 minutes (or of high intensity/ staged events): PURE Endurance Formula. This has added protein to help fuel and slow muscle breakdown/ fatigue. Which ever you choose, use your long training sessions to practice taking the product in training. If there is a circumstance you are unable to drink a sports drink or require additional electrolytes then consider PURE Electrolyte Replacement Capsules.
Always plan for a longer event. Race day timings can be variable for so many different reasons ranging from environmental factors to variations in your own demands. Aim to carry 25% more fluid than you think you need. 
Slow down at aid stations. Take your time in drinking your hydration to help meet your fluid goals. Don't be afraid to refill or grab a second cup to go, particularly if you aren't planning to take your own hydration with you.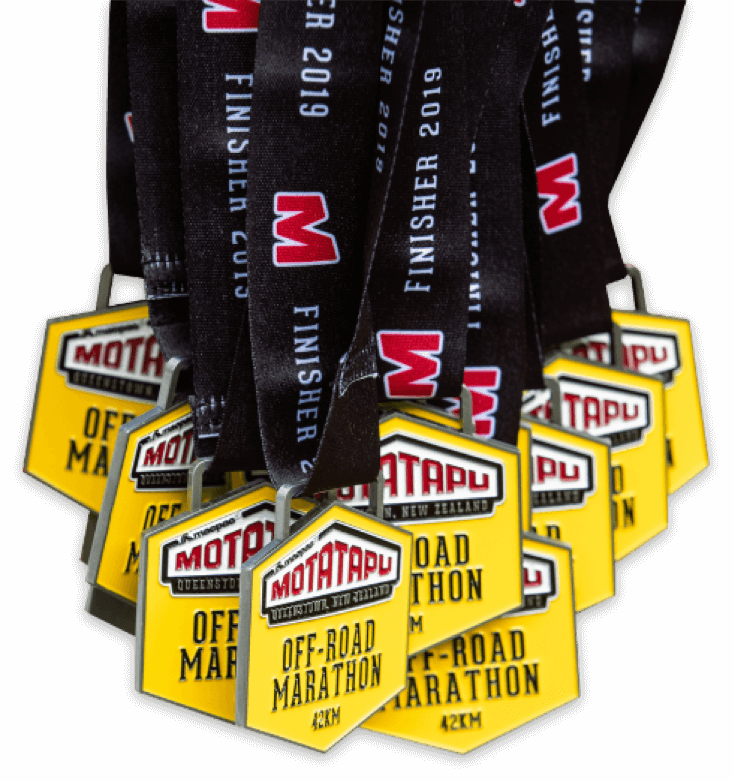 Copyright ©
2023
Motatapu Events Ltd, All Rights Reserved